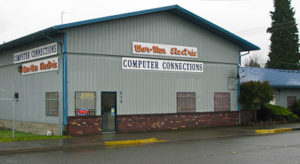 War-Mur Electric is located in Centralia, Washington in the beautiful Pacific Northwest. War-Mur Electric offers the complete electrical service solutions.
War-Mur Electric, Inc is dedicated to providing quality electrical service and products to its customers while striving to maintain a friendly, family-oriented, informal atmosphere for its customers and employees. We pride ourselves for efficient, timely service, as we are organized, reliable, courteous, and dedicated to our customers and community.
In order for War-Mur Electric to achieve total customer satisfaction, our methods of operation are shaped by our years of experience to eliminate wasted time, effort and materials.
War-Mur Electric pledges to provide honest, fair, and reliable service and products for each customer, regardless of the size and cost of their job. Our intention is to treat each and every customer with intelligence and respect. War-Mur Electric studies all information available in order to obtain and provide the highest value for our many customers.
Each customer is important to us. Everyone and every company must feel they are treated with equality and fairness in an ethical manner. War-Mur Electric realizes and understands the pressures and problems involved in our part of the construction industry – residential, commercial, and industrial. With our experienced and knowledgeable staff, we provide objective information about products and services. For our employees, War-Mur Electric is committed to providing an atmosphere encouraging both professional and personal growth and development.
Contact us to set up your appointment today!